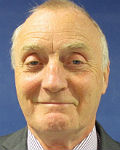 Bill Phillips (Saltash North Ward)
Tel: 518176




My job was in Devonport where I worked in the facilities design group, managing site services.
During this time I was a member of 2625 Squadron RAF reserves at St Mawgan for 5 years, which got me into running, I then became a founder member of the Tamar Trotters.

I also joined the Mayfair committee organising the half marathon amongst other events.

Following medical advice to give up marathons and eventually all running, l became aware of a vacancy on the Town Council and I was co-opted in 2010.
Then re-elected in 2013 and 2017.
I also had the honour of being elected Mayor in 2015-2016.

Since my time on the council representing North Ward, I have taken particular interest in Pilmere, as well as being the chair of the Policy and Finance committee, the Burial Authority and a member of the Library project, the Station and Waterfront groups.

I am also a member of Saltash Rotary Club which enables me to provide charitable service to the town as a whole.

I am passionate about making our town the best place to live and will look back at what we have achieved in my 10 years on the council and be proud.

Saltash Town Councillors meet in Fore Street at the beginning of each month. If you have a question for your Town Councillors, an issue you wish to raise, a bright idea that might improve the town, or simply want to find out more about what the Town Council is doing, then follow Saltash Town Council on Social Media to find out when Councillors are next meeting.