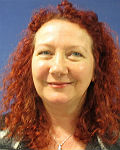 Julie Rance (Saltash East Ward)
Tel: 07525 932022




Julie has three grown up children who all attended both Brunel Primary School and Saltash Community School. Julie and her husband led the youth group at Saltash Baptist church which is where they discovered their passion for serving the community by working with itsí youth.

Julie qualified as a professional youth worker at Marjons University gaining a degree in youth and community professional practice. It was the latter and Julieís love for community work that led to her joining Saltash Town Council in 2015.

Julie has considered herself privileged to serve in the town of Saltash where she has played an active role in a number of Saltash Town Council initiatives. As a Town Councillor she has also been able to help individuals with a variety of concerns important to them.

Julie has a real passion for festivals, community events and other community concerns, which all really bring the community together, but have sadly been on hold this summer due to the lockdown. Julie, along with many others, really looks forward to enjoying these events again in the not too distant future.