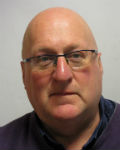 Mark Fox (Saltash South Ward)
Tel: 07975 656 831




Mark is Secretary and Past President of Saltash Lions Club which he joined in 2012, mainly to help run Mayfair, taking the event to Warfelton Field and holding four successful Mayfair's, which enabled lots of organisations the chance to increase their profiles and earn much needed funds for their businesses or charities.

Mark is Group Scout Leader of 2nd Saltash Scout Group as well as an Assistant Leader of 2nd Saltash Brunel Beavers. He states "This is a real challenge to progress us as a Scout Group, finish the building at Latchbrook and trying to recruit new leaders to join us."

In these unprecedented times of Covid19, Mark says he has found it strange not to be able to rally around and offer his physical support to help in these testing times, but for his own health he is subject to at least 12 weeks of shielding. Mark enjoys listening to many different types of music and loves watching Cricket and Rugby, in his younger years having played for Plymouth Albion Colts Team.

Mark is one of four Councillors serving the Saltash South Ward and can be contacted via the Saltash Town Council website.