Saltash Library Hub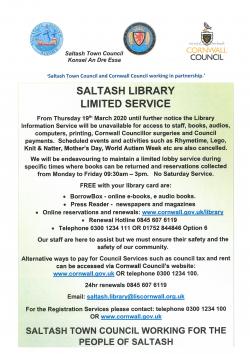 Mar 2020 - SALTASH LIBRARY LIMITED SERVICE FROM THURSDAY 19TH MARCH 2020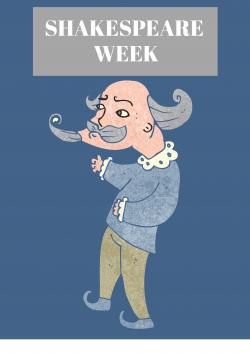 Mar 2020 - Shakespeare Week
Join in the celebrations of one of the most known writers of history – William Shakespeare.
The theme is art & design, be inspired in your local library & create your very own portrait of Shakespeare!

16th March 10am-4pm
https://www.facebook.com/events/544042999524642/
Mar 2020 - British Science Week
Join us to celebrate this year's theme 'Our Diverse Planet'

With Brilliant Bubbles and Rainbow Collectors you want to be sure NOT to miss it!

10th & 12th March 10am - 4pm
https://www.facebook.com/events/771010390085431/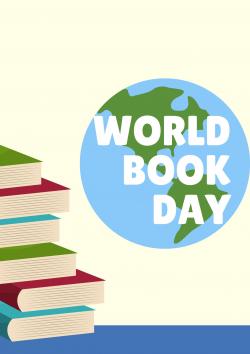 Mar 2020 - World Book Day
It's one of the most memorable days of the year!

What's your favourite book?

Who is your favourite character?

Who have you dressed up as this year and why?

Come and tell us at Saltash Library Hub!

Thursday 5th March 10am - 4pm
https://www.facebook.com/events/2881328371931180/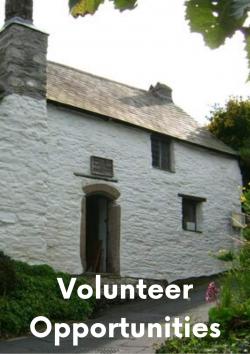 Mar 2020 - Tamar Protection Society
Pop in on the 2nd March and find out more about volunteering for local projects with the Tamar Protection Society.

From stewarding to mending & painting, come & see how you can get involved.

2nd March 10am - 1pm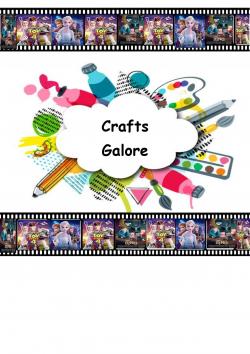 Feb 2020 - Crafts Galore
Who is your favourite? Woody? Buzz? Elsa from Frozen?

Join us for dot to dot, gluing, sticking, squishing and squashing Play Doh.

Tell us who your favourite Characters are!

And why not dress up as your favourite Character???

Prizes to be won and fun to be had at Saltash Library Hub for our very special Crafts Galore event.

Thursday 20th February 10am - 2pm
https://www.facebook.com/events/777587582748249/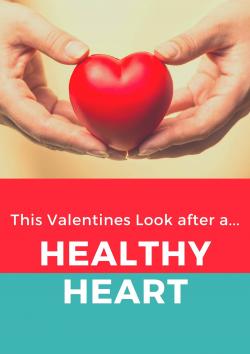 Feb 2020 - Healthy Hearts
Take a brisk walk to the library and find out new & exciting ways to keep your heart healthy. Between 10am - 4pm.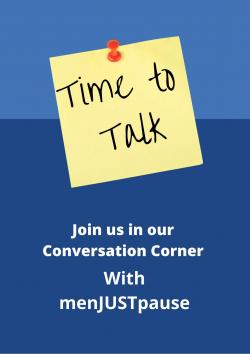 Feb 2020 - Time to Talk
Join us in our Conversation Corner on 6th February at Saltash Library.

A chance to chat about your day, what may be on your mind or even just the weather!

With menJUSTpause visiting between 10am & 2pm

Why not take this opportunity to take the Time to Talk...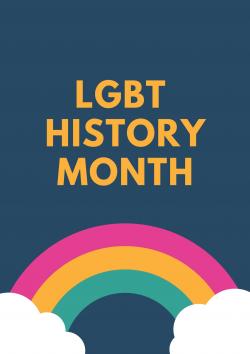 Feb 2020 - LGBT History Month
Visit us at Saltash Library Hub and uncover the hidden history of the LGBT community, the music and culture influences and marriage.

With some great reading resources and a fantastic display, come and broaden your knowledge about all things LGBT this February.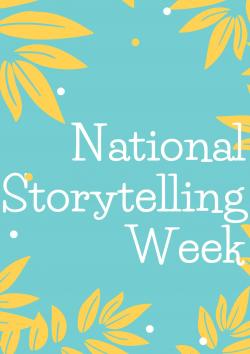 Feb 2020 - National Storytelling Week
From the 1st to the 8th of February it is National Storytelling Week.

Stories belong to everyone...what's your story?

Join us in the library and learn the difference between storytelling and reading.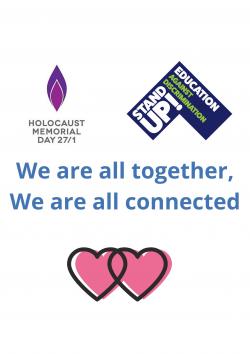 Jan 2020 - National Holocaust Memorial Day
Saltash Library will be remembering the millions of people murdered in the Holocaust, under Nazi Persecution and in the genocides in Cambodia, Rwanda, Bosnia, and Darfur.

Stop by the library on this National day of January 27th to learn more about standing up against discrimination and not forgetting to place your mark on our commemorative tree.

Our way of symbolising that - We are all together, We are all connected.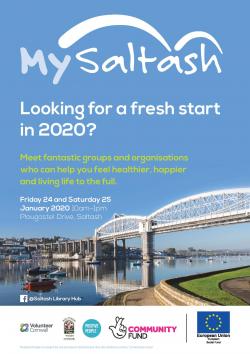 Jan 2020 - My Saltash
Looking for a fresh start in January 2020?

Look no further! On Friday 24th and Saturday 25th January we can help you do just that!

Working in partnership with Volunteer Cornwall and Pluss this fantastic opportunity to meet groups and organisations that can help you feel healthier, happier and living life to the full.

10am - 1pm - Plougastel Drive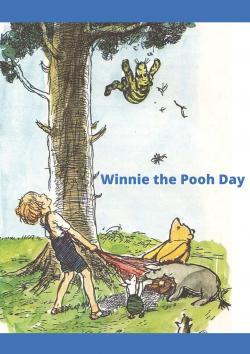 Jan 2020 - Winnie The Pooh Day
Journey into the Hundred Acre Woods with the team at the library as we enter the imaginative world of Christopher Robin.

18th January Between 10am and 1pm.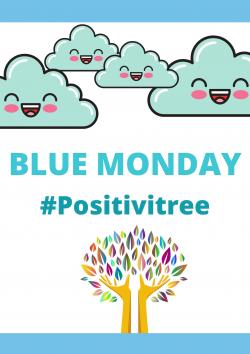 Jan 2020 - Blue Monday
Spread some cheer this year and visit your local library to place a comment on our #Positivitree

Between 10am and 4pm.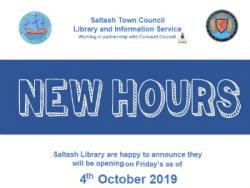 Sep 2019 - SALTASH LIBRARY NEW OPENING HOURS
Come and visit us at the Library on a Friday!!
Monday 9:30-17:00
Tuesday 9:30-17:00
Wednesday CLOSED
Thursday 9:30-17:00
Friday 9:30-17:00
Saturday 10:00-13:00
Sunday CLOSED
Saltash Town Council, The Guildhall, Lower Fore Street, Saltash PL12 6JX