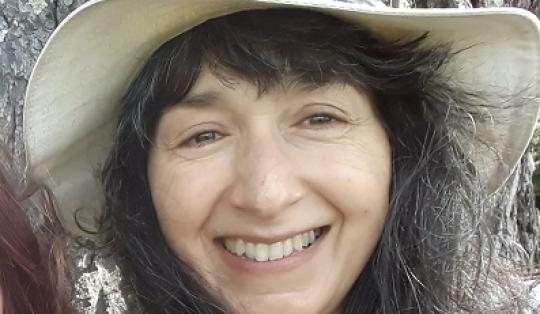 FOR 'WELL BEING' JANUARY
MINDFULNESS with SARAH-LINDA JOHNSON
A free one - hour taste on Thursday January 12th 11am
Mindfulness is a gentle, wise and friendly way
of lessoning the grip of unhelpful thoughts
and behaviours that interfere with our wellbeing.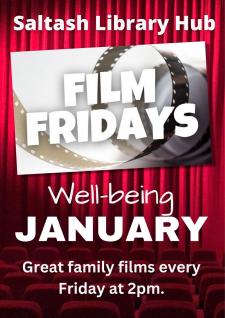 FILM FRIDAYS
Every Friday afternoon at 2pm we will have a classic film for you to see FREE.
For well-being January we are having some brilliant family films for you to come and enjoy in our warm space.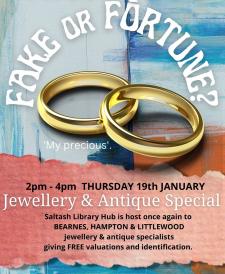 FAKE OR FORTUNE
A Jewellery and antique special is back in the library on Thursday January 19th between 2-4pm. You just never know what things might be worth!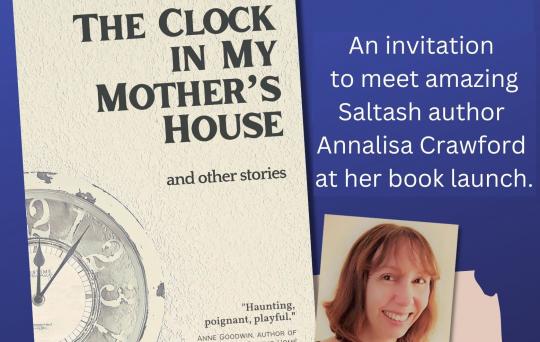 AUTHOR ANNALISA CRAWFORD BOOK LAUNCH
Thursday 19th January at 11.30am
Meet our very own local author Annalisa Crawford at the launch of her brilliant new book of short stories -
'The Clock in my Mothers House'.
Check our Library Hub Facebook page for further details.
Activities Calendar
WELL - BEING JANUARY

2 Jan - Monthly Word Quiz
3 Jan - MUSIC MAN (Every Tuesday at 10.30am)
6 Jan - FILM FRIDAYS (Every Friday starting at 2pm)
9 Jan - Story time (every Monday at 10.30am)
12 Jan - Mindfulness group with Sarah-Linda Johnson 11am
14 Jan - Writers Club 11am
19 Jan - Annalisa Crawford 'Book Launch' 11.30am
19 Jan - Fake or Fortune (Free jewellery & antique evaluations) 2 - 4pm
26 Jan - Computer Man (For all your enquiries) 10am - 12pm
26 Jan - 'Have your say' - Meet your neighbourhood Police 11am - 2pm
30 Jan - Adult craft afternoon 'Rock painting' 2pm
WELL - BEING FEBRUARY
2 Feb - Age UK Cornwall/Volunteer Cornwall Activities morning Health & Wellbeing advice and exercise demos. 10.30am - 12.30pm
2 Feb - Monthly Word Quiz
3 Feb - FILM FRIDAYS (Every Friday starting at 2pm)

6 Feb - Story time (every Monday at 10.30am)

7 Feb - MUSIC MAN (Every Tuesday at 10.30am)
9 Feb - Computer Man (For all your enquiries) 10am - 12pm

13 Feb - Free beginners guide to Yoga with Gee 11am
16 Feb - Mindfulness group with Sarah-Linda Johnson 11am
18 Feb - Children's Theatre Group performing Oscar Wilde's 'Star Child'. 10.30 and 11.45am (FREE Booking required)
20 Feb - Fake or Fortune (Free painting evaluations) 10.30am - 12.30pm
23 Feb - Alexander Technique with Sarah-Linda Johnson 11am
23 Feb - Computer Man (For all your enquiries) 10am - 12pm

25 Feb - Children's craft morning 'Rock painting' 11am
27 Feb - Free beginners guide to Yoga with Gee 11am
MARCH
2 Mar - Monthly Word Quiz
2 Mar - LEGO CLUB (Every Thursday at 3.15pm)

3 Mar - FILM FRIDAYS (Every Friday starting at 2pm)

6 Mar - Story time (every Monday at 10.30am)
7 Mar - MUSIC MAN (Every Tuesday at 10.30am)
10 - 19 Mar - British Science Fair
20 - 26 Mar - Shakespeare Week
APRIL - SPRING ENVIRONMENT MONTH
1 April - Monthly Word Quiz
3 April - Story time (every Monday at 10.30am)
4 April - MUSIC MAN (Every Tuesday at 10.30am)

6 April - LEGO CLUB (Every Thursday at 3.15pm)