The New Community Hub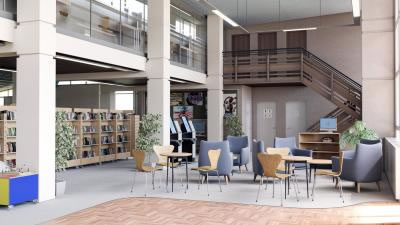 The wonderful 1960s building design is perfectly suited for its intended re-invention. Its height and open plan nature allow for a spacious foyer and access through the building.
There will be space for an integrated childrens book and play area, adaptable for music and other activities.
New shelving is to be introduced to house its large collection of library books.
A café and seating areas will offer opportunities for people to meet and relax while the new state of the art adaptable shelving will offer opportunities to create larger floor spaces for larger community and activity use.
The libraries computer and scanning consols will continue to be offered free to use with the associated printing service. digital and computer learning classes will be made available to all members of the community.
The mezanine floor will convert into Saltash Town Council Finance Offices, saving the Council money on renting office space.
The exterior bistro and patio area becomes a welcoming entrance to the multi-use community facility and library hub.